About Us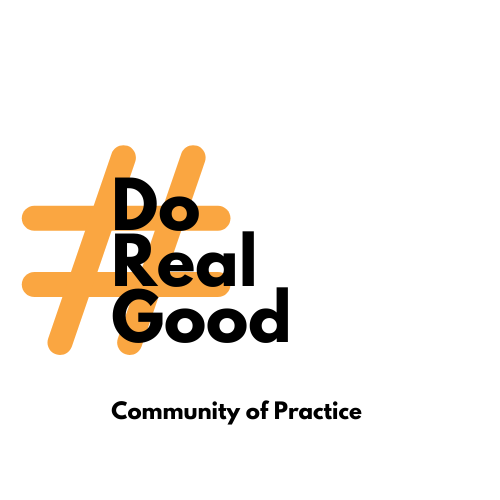 Welcome to the #DoRealGood community of practice and civic commerce platform. We make it easy for you to make a difference with your time, talent, treasure, voice, ideas, and network. This site is home to a new TimeBank initiative and online civic action center where individuals & families, community teams & corporate groups join together to engage in meaningful service opportunities supporting nonprofits/NGOs and each other.
Our Mission
The Laboratory for Civic Innovation is a social enterprise dedicated to fostering sustainable communities through service, philanthropy, and social innovation.
#DoRealGood is maintained as a sponsored project and the flagship cause marketing campaign of the Laboratory for Civic Innovation (Civic iLab) at Doing Good Business through a fiscal agent partnership with Ubuntu Institute of Learning, a Guidestar Bronze recognized California nonprofit. Stewarded, tax-deductible gifts to support TheBeloved.Community designated fund and our Social Alchemy Labs portfolio of startup venture studio projects may be made through the Mightycause donor-advised fund online giving platform.
What We Do
We promote volunteerism and get people involved in the issues they feel most passionate about. #DoRealGood partners are advocating for policies and delivering programs & services that create the conditions to bring about long-lasting change in our communities. From motivating children to discover and learn, serving hot meals to low-income families, and caring for the environment, to large-scale transformational projects, together we are responding to critical needs.
On the horizon.
Our primary theory of change and logic model connect people, passion and purpose through community-based participatory research, service and giving. The DoRealGood.Global web collection and related social enterprises are the fabric of a research inquiry that aims to implement evidence-based and evidence-informed Community Centered initiatives to improve civic health, enhance well-being and reinforce sustainablity.
Through The GIVE.Network, our civic chamber of commerce, and the Well of Change TimeBank we will facilitate screened, individual & team-based, and supervised skill-baed volunteer and probono consulting activities that build capacity within the nonprofit and public sectors. We're empowering people to be the change!
Engaged Service Mindset
In the tradition of the Points of Light affiliate network, we use the HandsOn approach which delivers proven results in small and large communities across the nation and increasingly around the world.
Providing a Starting Point – We offer a place for individuals to begin their journey to make a difference and become effective volunteers, making it simple for them to choose from a variety of projects that connect community needs to their time and interests.
Equipping Citizen Leaders – We cultivate and train volunteers to lead other volunteers, creating enormous capacity for civic change.
Structuring a Meaningful Experience – We work in partnership with local organizations to create service projects that are fun and well managed to produce tangible benefits.
Joining Together to Make a Difference – We enlist a corps of volunteers who join forces to address community needs. Through our work we mobilize individuals to work together, creating camaraderie and momentum for continued action.
A Pathway to Greater Participation – We provide the foundation and tools for individuals to transform their direct service activity into sustained civic action, from tutoring children to running for the school board.
Sign up today!
Register to create your account on this site. After registering, you'll be able to search and sign up for volunteer opportunities.